Why you should keep your eyes on newly promoted Wolverhampton Wanderers.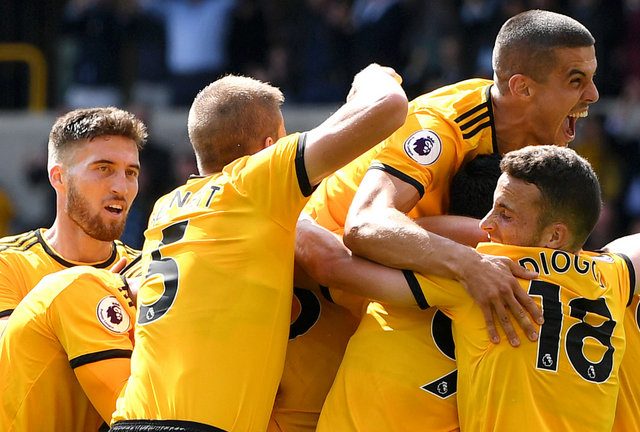 In a summer transfer window of shocks and controversy, one team quietly scooped up bargain after bargain. From Rui Patrício on a free from Sporting CP, to Adama Traoré for a club record £18 million pounds, Wolverhampton Wanderers had one of the most successful transfer windows of the season, despite being a newly promoted team.
Manager Nuno Espírito Santo managed to get Wolves promoted to the Premier League in his first season in charge (and with 4 games to spare), and the excitement for Wolves fans only keeps rising. Their play and tactics against the record-breaking, and reigning champions, Manchester City gives only a small taste as to why.
The Portuguese Connection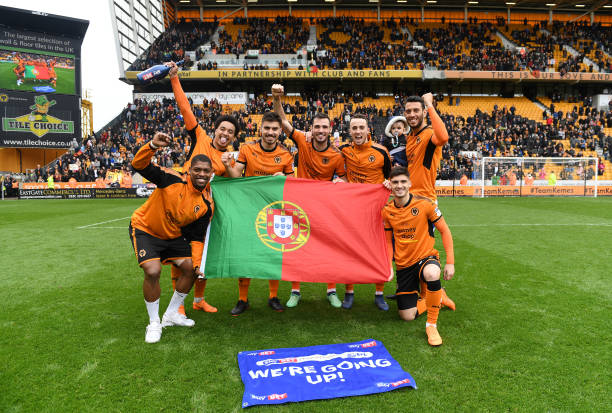 In a hilarious turn of events, Wolves starting 11 players contains more Portuguese nationals than Benfica, Porto and Sporting Lisbon (the historical best 3 teams in Portugal's Primeira Liga) combined. Nuno's squad is built from hard work, the recommendations of his players to others, and a haul from the slight collapse of Sporting over the summer. Wolves brand new starting keeper, Rui Patrício, is the number 1 keeper of Portugal too, with 73 caps and a Euro 2016 gold medal for his performances during the tournament. To scoop a player of that calibre, especially as a newly promoted side, is truly incredible to witness. Proving his credentials, Rui Patrício pulled off a variety of stunning saves to help Wolves hold Manchester City to a 1-1 draw this season. Below is one such save.
---
---
Furthermore, this change started as soon as Nuno arrived the year before, with the signing of Rúben Neves. Only 21, Neves broke out at Porto before joining Wolves last season and played a major role in helping them to win the Championship. He was signed for £15.8 million, a record for club and the league at the time, and was certainly worth it; By April 2018, he was nominated for the EFL Championship Player of the Season and Young Player of the Season awards, as well as finding himself in the Team of the Season. For a 21-year-old, in a completely new environment, this shows an incredibly high skill ceiling for the player, and so far in the Premier League, he has not been invisible; He scored and assisted in his first game, with his goal being a sublime freekick against England's number 1 keeper Pickford. Below is the goal.
The rest of the wolf pack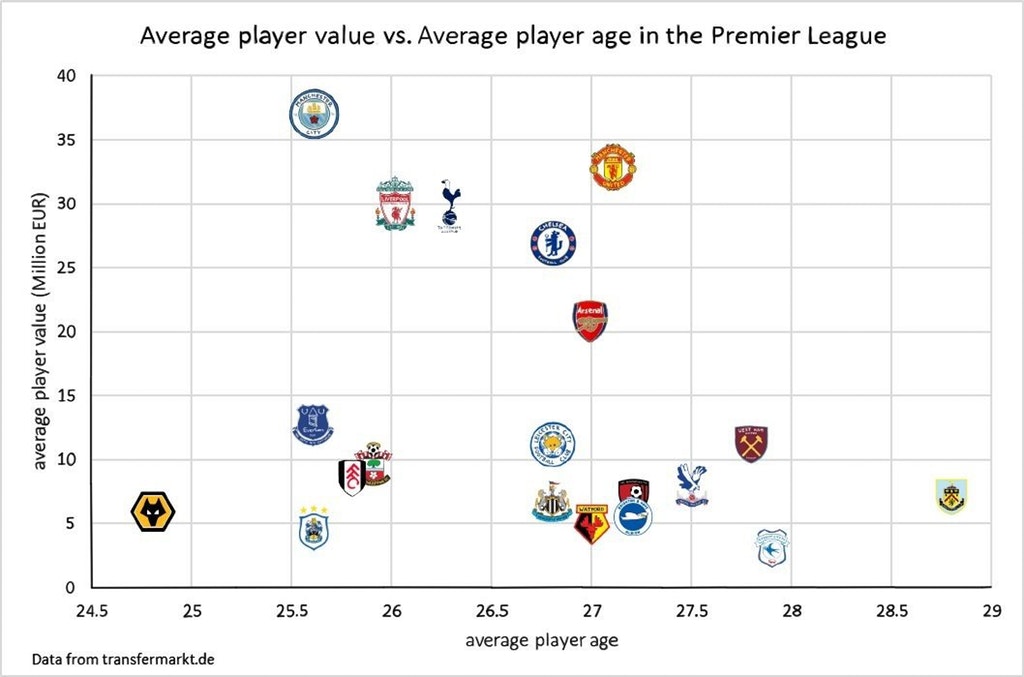 As you can see in the graph above, Wolves have the lowest average age/value out of all the clubs. This shows that their potential can only rise (both value and skillwise) and not only with the Portuguese players. Another such talent is one mentioned earlier, Adama Traoré.
"A bit of Messi and a bit of Ronaldo"

Tim Sherwood, former manager of Traoré at Aston Villa.

Traoré is a player of pure, uncontrollable energy. Previously described as a "super sub", when hes allowed on the pitch he shows glimpses of pure brilliance. His ability to fly down the wing, beating 4,5,6 players whilst carrying the ball with flair, makes you hope that he can harness the raw talent and push it to its limits. The only question now, is can Nuno and Wolves develop Traoré in the player he should be, or will he not be able to transition into a reliable and consistent option that all Wolves fans hope he will be. Below you can see some of his potential.
How far can they go?
Wolves are a team that could end up anywhere from 7th to 20th this season. We've seen already, they can hold their own against a world-class team like Manchester City, but then lose 2-0 to a decent club (that they should be able to beat) like Leciester. 
Nuno's ability to bring over these types of players and help them slot into his system has proved instrumental, and if he keeps it up and manages to keep them during the January transfer window, could see Wolves challenge for a Europa League spot; This would be incredibly impressive in their first season back to the Premier League, and if Wolves can manage to hold onto these players then we could see an even better team next season. However, this means they can't afford to drop points to teams like Cardiff, or Huddersfield Town, and teams like Leicester they should at least be getting 1 point again.
We might be only 3 games into the season (as of the time of writing), but I think Wolves fans, and fans of the underdog in general, might be in for a treat this season.
---
Thank you for reading my article. I hope you enjoyed reading it and learnt something from it.
If you have any suggestions or comments, please leave them here or contact me on Twitter.
Follow @ApolloHeyes