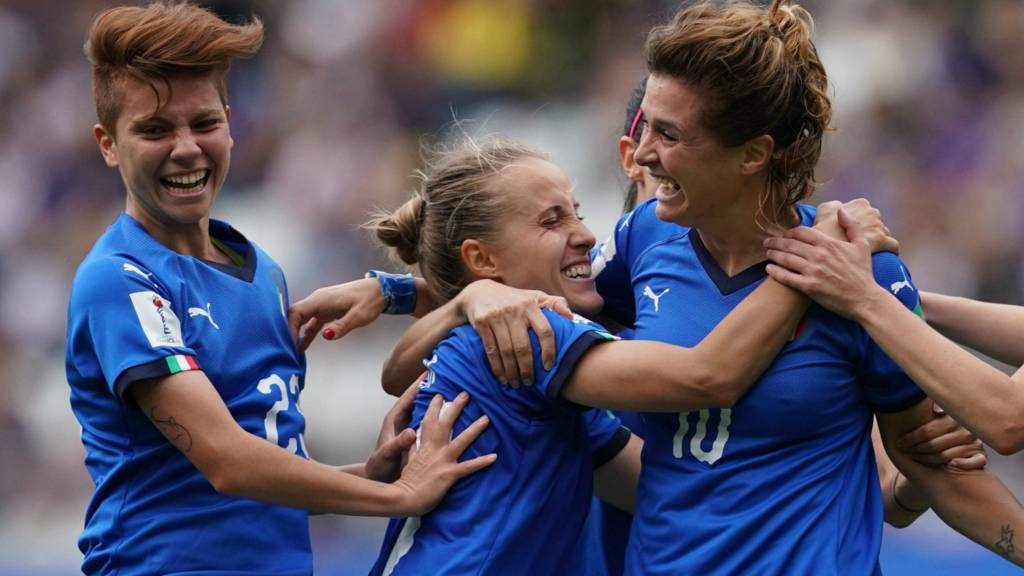 Italy won their group in the Women's World Cup 2019, the first time Le Azzurre have ever done so in their third ever World Cup. Their first opponent in the knockout stage is China, a team only ranked one place below them in FIFA's World Rankings. Here is a review of Italy's Group stage performance, and what to expect in the match against China.
Memories of 2006
Italy's opener of the tournament was Australia, a team heavily favoured to win and nine places above them (15 against 6) in FIFA's rankings. Whilst the two teams have a short history in the women's game (their only other meeting being a 5-2 win for Australia back in 2014), this game would invoke memories of a more famous meeting between these two teams in football, that being Italy's 1-0 over Australia in the Round of 16 in the 2006 World Cup.
The game went as expected, for the first half. Australia went into the second half 1-0 up from a Sam Kerr goal, Italy were being dominated across the pitch and everything seemed according to plan for the Australians. However, a defensive mistake from the Matilda's was pounced on by Juventus' Barbara Bonansea, and suddenly the game was even again. A scrappy 35 minutes followed, with Australia desperate for a winner, and Italy having a second disallowed goal for offside by VAR (both correct decisions). In the dying minutes of extra time, the unthinkable happened.
Italy had a free kick outside the box, almost in the position of a corner, and time seemed to slow down as it floated over, all eyes on the ball. Bonansea backpedalled against her marker and managed to head the ball home. Euphoria for Italy, and heartbreak for Australia. It must have been fate, for Francesco Totti's winner against Australia 13 years prior was also scored in the 95th minute, and Australian hearts were broken in the same way, by the same nation.
The stats tell a different story than the result, and yet the Italians didn't care. In a game they were not favoured to win, they managed to steal three points and increase their chances of knockout qualification dramatically.
Inspiration from Girelli
Italy's second game was one with high expectations. After stealing three points from Australia, another three points here would almost guarantee qualification to the knock out stages, a place they hadn't reached since 1991, 28 years prior. Their opponent was Jamaica, who were making their first ever appearance in the World Cup and are ranked 53rd in the world.
Le Azzurre started strong, and within ten minutes Bonansea was fouled in the box and awarded a penalty. Cristiana Girelli stepped up for the spot kick, and a poor penalty was saved by Sydney Schneider. Suddenly, doubt started to creep in. Would Italy disappoint in a game they should win? Almost as quick as the doubt creeped in, it was forgotten again. A VAR check showed Schneider stepping off the line before the ball was touched, and so the penalty was duly retaken, and this time Girelli didn't disappoint. 13 minutes later and Girelli scored another, already showing she was Italy's hero this game.
At half time, spirits were high. Milena Bertolini and her team were impressing and knew another 45 minutes would put them into the promised land.
Within a minute of the half starting, Girelli wrote herself into Italy's history books. She became the second woman to score a hat-trick in the World Cup for Italy, after Carolina Morace's hat-trick against Chinese Taipei in 1991. The second half continued with the same flair and brilliance from Le Azzurre, and celebrations were in full flow after the final whistle. All Italy had to do now was hold strong against Brazil, and they would finish the group first, a feat they'd never achieved before.
The Final Hurdle
Italy's final group game would also be their toughest. Brazil are in FIFA's top 10 in the rankings, and most famously reached the final against Germany in 2007. With players like Marta and Formiga, Italy had to play safe to protect their position at the top of the group. A draw, or a loss by up to two goals would still be enough to secure that, due to their positive goal difference of +6. As is tradition, Italy's defensive play did not disappoint.
Cristiane, Brazil's prolific forward, was coming into this game with four goals already, and Italy managed to shut her down completely. The first half was bright, and Le Azzurre looked close to taking the lead thanks to Bonansea, but after the break Brazil were in control. However, Italy's tradition of a strong defence (as with the men's team) proved formidable, and only a 74th minute penalty scored by Marta proved the difference.
Despite the 1-0 loss, Italy and their fans celebrated with passion at extra time, due to their shocking finish as first of the group. This set up the team with an easier bracket than their group rivals, with the draw proving to be China (16), instead of France (4) or Norway (10).
Looking Forward
Italy and China have met twice before, in 2004 and 2008, and the Italians won both. Fans of Le Azzurre will be hoping for a repeat of this and considering the performances of both squads this looks to be quite likely. Despite Italy's fairly poor expected goals conceded (1.69), they also have been clinical in front of goal, and China have looked fairly poor offensively, only scoring one in the tournament so far.
However, China have only conceded one goal too, and the final group game against Spain showed they can defend well enough to frustrate. Italy will need to be creative and consistent in the final third if they are to progress. Bonansea, Girelli and Manuela Giugliano are the ones to keep an eye on as they look to guide Italy to the Quarter Finals of the tournament, a great achievement considering Italy's recent performances since the turn of the millennium.
Italy have already massively over-performed the expectations placed upon them before the tournament, and now every stage they progress will only further cement them into the history books of Le Azzurre.
Italy's game tomorrow against China is at 17:00 (BST) at the Stade de la Mosson in Montpellier.